Baby Organic Broccoli Stick Noodle
Sale price

RM 14.20

Regular price

RM 0.00
Share
𝑴𝒐𝒎𝒎𝒚𝑱 ® Baby Organic Stick Noodle
Ingredients: Use only the purest and simplest ingredients. There are only three types of ingredients: organic wheat flour, broccoli / tomato / pumpkin, and filtered water. Most of the noodles in the market contain salt as one of the ingredients; MommyJ Baby Organic Stick Noodle is absolutely with NO added salt.
Shape: Experts suggest that straight noodles is the most suitable for babies under one year old with choking hazard as one of the safety consideration. Any animals, letters, stars, etc. shaped noodles are normally recommended for older babies.
Thickness: The fineness of MommyJ Baby Organic Stick Noodle is kept at 0.1cm. Mainly to make it easy for babies to chew and bite off noodles. Most noodles on the market, be it meesua , pasta, pan mee noodles, yee mee noodles are thicker and are more recommended for older babies.
Taste: As each baby has different requirements for taste at each different month of age. MommyJ specifically researched and shared a cooking guide on the back of the box. Moms can refer to it and you may make it your own recipe based on your baby's favour.
Nutrition: MommyJ Baby Organic Stick Noodle is very nutritious. All three flavors are made with SUPERFOOD ingredient - Broccoli / tomato/ pumpkin. The above three super ingredients are are known to bring good nutrition and helps baby's growth, improve immunity, promote metabolism and so on.
𝑴𝒐𝒎𝒎𝒚𝑱 ® 有机宝宝面线



食材:坚持只用最纯,最简单的配方食材。就是只有 有机小麦粉,西兰花/番茄/南瓜, 过滤水 3种食材而已。市面上的面类都多是含有盐为配方食材之一,而MommyJ Baby Organic Stick Noodle 是绝对没有添加盐份的。

形状 :专家建议一岁以下的宝宝是最适合 直条状 的面,原主要是考量到安全性质。什么动物,字母,星星等形状都是建议给较大的宝宝食用。

粗细:MommyJ Baby Organic Stick Noodle 的细度是保持在 0.1厘米,也就是0.1cm。主要是让小宝宝容易咀嚼,嚼断面条。而市面上多数的面线,意大利面,粗面,板面,伊面都是较粗厚的,都是比较建议给较大的宝宝食用。

口感 :由于每位宝宝在每个不同的月岁,都会有对口感的不同要求。MommyJ 特别研究和分享了一个 烹调指南 在包装盒子的背面。妈咪们可以参考然后自行调整因为每一位宝宝的口感要求都有差异哦。

营养:MommyJ Baby Organic Stick Noodle 的营养是非常丰富。三种口味都是采用 超级食物 SUPERFOOD 的西兰花,番茄与南瓜为食材。以上三个超级食材都是大众皆知对宝宝成长,提高免疫力,促进新陈代谢等等非常好的营养食材。
Cooking Guide | 烹调指南
---




Allergen Advice : This product contain wheat gluten.
敏感提醒 : 此产品含有小麦

---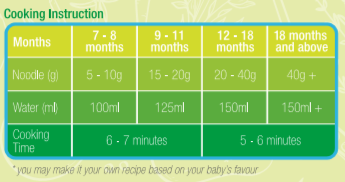 Cooking Instruction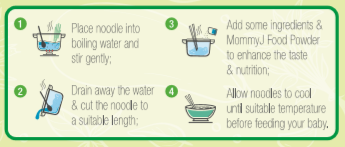 Cooking Instruction

---
Weight | 重量
Weight 重量 : 200g ( 5 bundles包 x 40g )