Original Teething Rusks
Sale price

RM 15.80

Regular price

RM 0.00
Share
MommyJ®️

𝑩𝒂𝒃𝒚 𝑻𝒆𝒆𝒕𝒉𝒊𝒏𝒈 𝑹𝒖𝒔𝒌𝒔
💡 Do parents find baby increase in drool recently?
💡 Do parents find baby has more biting recently?
💡 Above are one of the teething symptoms parents should look out for.
--Sharing about 𝘉𝘢𝘣𝘺 𝘛𝘦𝘦𝘵𝘩𝘪𝘯𝘨--
🌱 Teething stimulates drooling.
🌱 Teething babies will gum whatever they can find, from their little fingers and rattles to your soon-to-be sore nipples if you're breastfeeding.
🌱 As a result of pressure from teeth poking through under the gums eventually has to break through the gums. This can cause swelling and soreness just before the tooth comes through.
🌱During this teething process it causes baby a lot of discomfort— which can be relieved by chewing and biting.
Teething Rusks are a great way to soothe your little one's sore gums !
🌱It is perfect for babies teething as they encourage chewing, which also helps to soothe the pain of sore gums.
3 𝘈𝘸𝘦𝘴𝘰𝘮𝘦 𝘳𝘦𝘢𝘴𝘰𝘯𝘴 𝘸𝘩𝘺 𝘵𝘦𝘦𝘵𝘩𝘪𝘯𝘨 𝘳𝘶𝘴𝘬 𝘪𝘴 𝘣𝘦𝘯𝘦𝘧𝘪𝘤𝘪𝘢𝘭 𝘥𝘶𝘳𝘪𝘯𝘨 𝘵𝘩𝘦 𝘵𝘦𝘦𝘵𝘩𝘪𝘯𝘨 𝘱𝘩𝘢𝘴𝘦
1) The texture of teething rusk is specifically designed for baby's gums.
2) Teething rusk helps your child in satisfying his natural urge to chew and bite, providing your baby with the maximum comfort and taste.
3) Also provides baby with vitamins and nutrients which are highly beneficial for growth.
________ ________ _________
🍼 𝑴𝒐𝒎𝒎𝒚𝑱 𝑩𝒂𝒃𝒚 𝑻𝒆𝒆𝒕𝒉𝒊𝒏𝒈 𝑹𝒖𝒔𝒌𝒔 🍼 contain all the natural healthy ingredients which are highly beneficial for your baby.
⭐️They are 𝙁𝙧𝙚𝙚 𝙛𝙧𝙤𝙢 𝙖𝙧𝙩𝙞𝙛𝙞𝙘𝙞𝙖𝙡 𝙘𝙤𝙡𝙤𝙧 & 𝙥𝙧𝙚𝙨𝙚𝙧𝙫𝙖𝙩𝙞𝙫𝙚𝙨, which makes them a healthy choice for your baby.
》They can be given to the infants as soon as they enter their teething phase.
They do not only provide your baby with taste and vitamins but also positively affect the growth of baby's teeth.
⭐️ 𝑴𝒐𝒎𝒎𝒚𝑱 𝑩𝒂𝒃𝒚 𝑻𝒆𝒆𝒕𝒉𝒊𝒏𝒈 𝑹𝒖𝒔𝒌𝒔 with 𝙉𝙊 𝙖𝙙𝙙𝙚𝙙 𝙨𝙖𝙡𝙩 version is specifically designed for baby!
If parent do realize that normally available teething rusk is with added salt.
》 As parents, we aware that infants under one year should not be given salt because their kidneys are not matured.
Babies who are breastfed get the right amount of salt through breast milk. Infant formula contains a similar amount of salt to breast milk.
Hence there is not a need to add on salt to the foods you give to your baby.
⭐️On top of that, texture of 𝑴𝒐𝒎𝒎𝒚𝑱 𝑩𝒂𝒃𝒚 𝑻𝒆𝒆𝒕𝒉𝒊𝒏𝒈 𝑹𝒖𝒔𝒌𝒔 are 𝙘𝙪𝙨𝙩𝙤𝙢 𝙢𝙖𝙙𝙚 𝙩𝙤 𝙗𝙚 75% 𝙝𝙚𝙖𝙫𝙞𝙚𝙧 𝙖𝙣𝙙 𝙢𝙤𝙧𝙚 𝙘𝙤𝙢𝙥𝙖𝙘𝙩 𝙞𝙣 𝙖 𝙨𝙩𝙞𝙘𝙠。
》 It is custom made to keep your baby busy for a long time
》And also minimize the chance of breaking the rush which also helps prevent choking.
( *Note: Each stick of 𝑴𝒐𝒎𝒎𝒚𝑱 𝑩𝒂𝒃𝒚 𝑻𝒆𝒆𝒕𝒉𝒊𝒏𝒈 𝑹𝒖𝒔𝒌𝒔 weight 14g ; while normally available rusk is only weight 8g).
⭐️Furthermore, natural seaweed calcium is added for building strong teeth & bones for baby.
*Safety advise : Always ensure your baby eats in an upright position. Do not leave your baby alone whilst they are self-feeding. Discard rusk if broken or chewed.
无

添加盐份的 MommyJ®️ 宝宝磨牙棒
⭐️ 磨牙棒小知识⭐️
🌱 宝宝一天一天成长了,妈咪们有没有发现宝宝口水越来愈多,还喜欢吮自己的小指头?这是宝宝长牙了,长牙痒痒不舒服,见到什么啃什么,容易吃进去细菌,让妈妈防不胜防!不妨给宝宝磨牙棒吧,让宝宝咀嚼的时候还可以补充营养。
🌱 宝宝乳牙萌出的过程中,宝宝的唾液量增加,流口水,欢喜咬硬的东西,会将手指放入口中或咬妈妈的乳头等。这些现象都是在萌出前的乳牙在压迫牙龈神经引起的异常感觉的表现,提示着幼小的乳牙正在努力克服牙龈的覆盖,所以在这个时间里,可以供给宝宝一些磨牙饼干,帮助乳牙萌出,改正咬奶头手指的现象,而同时也及时地训练了宝宝的口腔咀嚼功能。
🌱这个时候若给宝宝使用磨牙棒能有效帮助宝宝改善磨牙情况,让宝宝能够健康成长,宝宝磨牙棒有什么益处呢?
1、磨牙棒一般硬度适中,可以摩擦牙龈,促使萌生的乳牙及时长出。
2、经常咀嚼磨牙棒,可以使颌骨正常发育,为恒牙健康成长打下良好手指形状,方便宝宝自己抓握摩擦痛痒部位,缓解牙龈不适,避免宝宝抓咬其他物品,保证安全卫生。
3、强健牙床,提高咀嚼能力。提供丰富钙质,有助于宝宝骨骼与牙龈成长。
如果妈咪们有研究市面上各大牌子宝宝磨牙棒的成分表 (Ingredient List) 会发现都有添加盐份形成磨牙棒。
然而妈咪们都了解摄取盐份在幼儿宝宝是必须避免的。
☑️ 所以,MommyJ®️ 就是针对这点而推出了无添加任何盐份宝宝磨牙棒。
MommyJ®️ 宝宝磨牙棒营养((Nutrition Information) 所显示的钠成分是比各大牌子的少将近十倍(备注:Milk 有少量的钠).
☑️ 除此之外,为了更安全的让宝宝享受磨牙棒,MommyJ®️ 宝宝磨牙棒做得比市面上各大牌子宝宝磨牙棒更结实 💪,75%更重 !! 所以形成耐磨性高, 也有更长享受时间。
(备注: MommyJ®️ 宝宝磨牙棒 一支14g的重量, 市面上各大牌子宝宝磨牙棒一支才有8g的重量).
💡 内部不够结实的磨牙棒容易被宝宝咀嚼而咬碎,而这些碎渣会增加宝宝发生呛咳的危险。所以内部结实的 MommyJ®️宝宝磨牙棒会大大减少宝宝发生呛咳的机率,妈咪们更放心的让宝宝享用。
☑️ 另外,MommyJ®️ 宝宝磨牙棒添加了海藻钙。钙对宝宝的身体有不可或缺的作用,缺钙会给婴儿发育造成不利影响,但由于宝宝的生长发育极快,身体对钙的需求量比较大,而在日常饮食中又往往不能满足钙的需求,就极容易导致宝宝缺钙,因此,家长要及时的为宝宝进行补钙。海藻钙的蜂窝型多孔状结构(接近人体骨骼的结构),缓冲效果极佳,容易在肠胃中迅速溶解和离子化,钙在胃中溶解离子化后,主要在小肠中被吸收,提高了人体消化吸收的能力而且中和胃酸的效果显着;更值得一提的是在海藻钙中除钙以外,还富含73种微量营养素,可以提高宝宝体内钙的吸收率,吸收率可以高达96%以上。
* 注意事项:宝宝在使用磨牙棒的时候,都需要大人陪护的。咬碎的磨牙棒,请大人丢弃碎的磨牙棒,也不要把污染了的磨牙棒再给宝宝吃。
________ ________ _________
Ingredient | 成分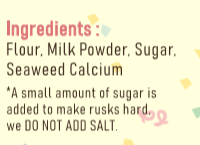 Allergen

Weight | 重量
84g ( 14g x 6 packs包 )